INTRODUCTION TO BLACK STUDIES (SHORT SLEEVE)
$

50.00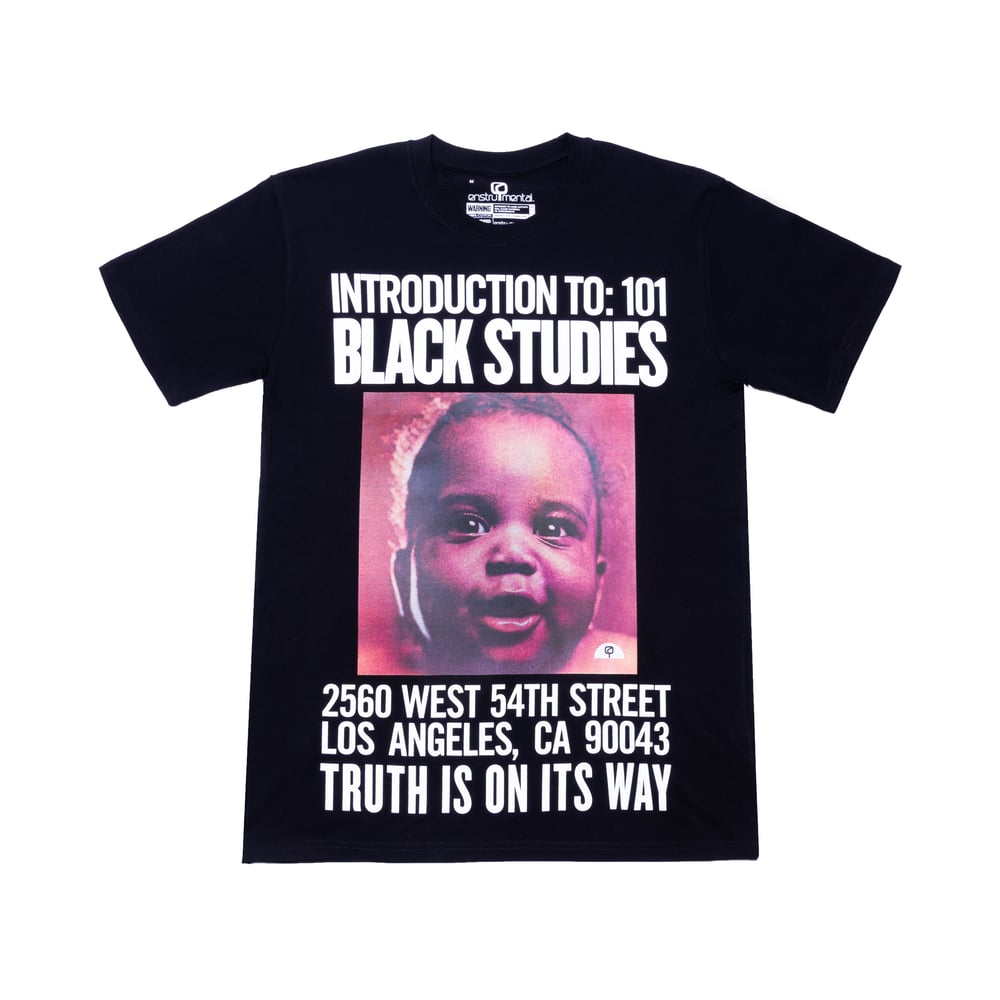 "It's calm yet wild the style that I speak
Just filled with facts, and you will never get weak in the heart
In fact you'll start to illuminate,
Knowledge to others in a song let me demonstrate.
The force of knowledge, knowledge reigns supreme
The ignorant is ripped to smithereens.
What do you mean when you say I'm rebellious,
'Cause I don't accept everything that you're telling us? …"

I believe that if you're teaching history,
Filled with straight up facts no mystery.
Teach the student what needs to be taught,
'Cause Black and White kids both take "shorts."
When one doesn't know about the other ones' culture,
Ignorance swoops down like a vulture."
KRS-One.
"You Must Learn."
Verse 1
1989.
Inspired by Maulana Karenga, Nikki Giovanni, and KRS-One.
In 1971, Nikki Giovanni released a record titled "Truth In On Its Way" w/The New York Community Choir. My mother used to have this joint in her collection, and I always remembered it because a company called Right-On Records released it. Back in 2010 while at a speech in Chicago, Nikki Giovanni signed a 2nd copy of this record for me with the note: "DREW – Keep Pushin' … A phrase I'll always used.
I had an older cousin that kept KRS-One's "You Must Learn" on repeat. He gave an actual history lesson on this song. Hip Hop taught me a Black history the classroom never provided.
When I was young, my sis and I used to spend summers with our Pops in LA. While Pops was at work, at times, we'd be posted at the Africa-American culture center, which was founded by Maulana Karenga in 1965, who then founded Kwanzaa in 1966.
Karenga gave me a signed copy of this book in 2001; it was the first comprehensive history book that I read regarding my/Black history.
This shirt is also dedicated to the good brother Wasifu, who recently lost his life. He used to cut my hair at the center, and watch over us with the benevolent sisters. I still remember him African boot dancing with Blood and Crips together – with no gang truce in existence. May he Rest in Power.
Share